Kanopy 2022/23 Season at the Overture Center for the Arts 
Contact Susanne Voeltz for Kanopy Dance
susivoeltzpr@gmail.com 608-284-0848
Kanopy Dance Company Announces its 2022-23 Season at the Overture Center for the Arts.
PURE.DANCE
Watch Exquisite Art in Motion and "Views of the Fleeting World"… A Reimagined Multi-Cultural Winter Solstice Celebration… Premiere New Voices in Contemporary Dance … A Fusion Performance of American Modern and Classical Indian Dance … the Powerful Choreographic Tradition of Jose Limón… and the Next Generation of Dance
Don't Miss Impossibly Exquisite Dance and Dance Legend Pascal Rioult's Magical Restaging of his Iconic "Views of the Fleeting World" in Kanopy Redux: No Limits
October 20-23, 2022 Overture Center for the Arts
Kanopy Redux: No Limits is a debut of new works/reconstructed works as well as iconic Kanopy favorites. Expect impossibly exquisite physical dance that will defy the limits for human movement and lavish, custom costuming. Renowned world class dancer and choreographer, Pascal Rioult (Rioult), directs the Kanopy Company in his signature masterwork "Views of the Fleeting World, ("Views"). Restaged works will include Lisa Thurrell's poignant "Cassandra's Cry "and Robert E. Cleary's joyful "Primavera" and the bold + spirited "Bound and Determined".
Rioult's "Views", a series of 7 dreams/meditations performed in ensembles and as three duet groups, is a rare artistic treat that intertwines the parallels in Bach's music and Asian culture Projected watercolor paintings– evoking Japanese woodblock prints, provide the backdrop for Views and recorded nature sounds are played during the transition between its sections. Rioult's original costumes for Views, designed and fabricated by the renowned Karen Young and inspired by the hearth tones in nature as well as by the pleated pants/skirts worn by the Samurais in ancient Japan– will be utilized in Kanopy's production.
Kanopy Dance is the only professional company, (other than Rioult Dance NY), to perform Views, regarded as an extremely demanding contemporary dance, both technically and emotionally. Rioult was a principal dancer for the Martha Graham Dance Company , interpreting many of the most prestigious roles in the Graham repertory, including the "Christ" figure in Graham's El Penitente, dancing with guest artist Mikhail Baryshnikov. In 1994, Rioult also founded the critically acclaimed Rioult Dance NY, which performed internationally.
Kanopy Redux: No Limits
Performing at Overture's Promenade Hall, Reception Following Friday Night
THU Oct 20, 7PM
FRI Oct 21, 7:30PM
SAT Oct 22, 5 & 8PM
SUN Oct 23, 1 & 4PM
Tickets (reserved seating): $40
Groups: 4 or more $35
Ages 18 & under $20
Students $20
Overture.org (608) 258-4141
On sale Sept 20, 2022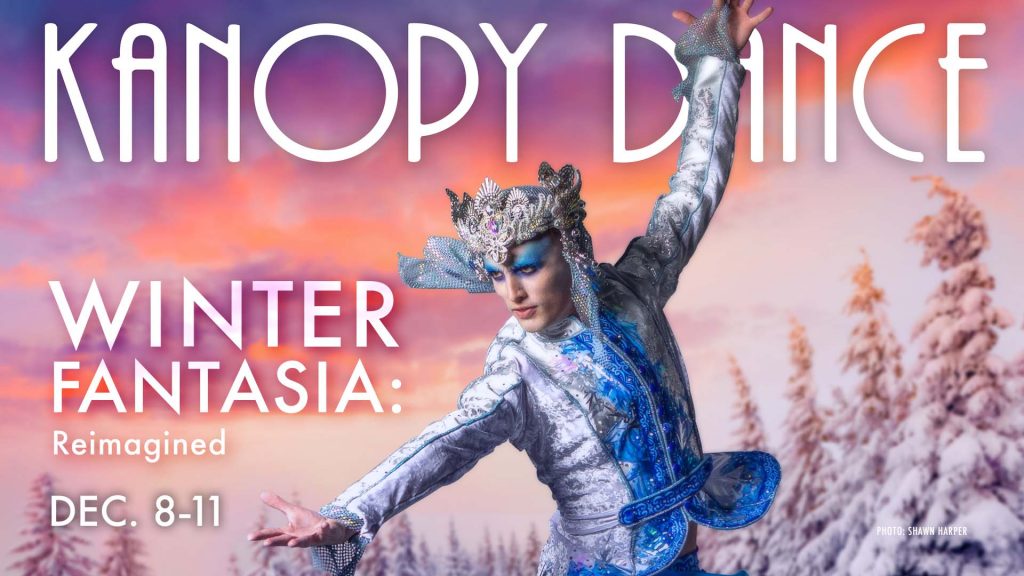 Kanopy Lights up the Stage with a Multicultural Holiday Celebration Winter Fantasia: Reimagined
Scandinavian legends and a festive ode to the revered Hindu Festival "Navratri" Told through the Magic of Dance Stunning New Costume Collection December 8-11, 2022 At the Overture Center for the Arts
The Winter Solstice, a time of transition when the dwindling light and the sun are finally poised return, has been celebrated thousands of years and marks a season of festivities and storytelling on every continent and in many cultures. For several seasons, Kanopy's Winter Fantasia has presented two cherished winter stories rooted in Scandinavian folklore and brought to life through dance: "Once Upon a Winter's Eve" and "The Norse Tree of Life" and they will continue to be a treasured part of the concert's program.
Starting this season, Kanopy presents Winter Fantasia:Reimagined—designed to enrich the spirit of the holiday celebration by showcasing important contributions of other cultures– with the debut of a world premiere, "Chalo Ramiye ", commissioned by Kanopy from South Asian dancer and choreographer Udbhav Desai. "Chalo Ramiye" (or "let's play in Gujarati"), is a "garba" folk dance, and it is performed in ritualistic reverence of the Hindu goddess "Durga", a protector of all that is good and harmonious in the world. Performing the festive garba dance form is a major highlight of the nine-day Hindu festival, Sharad Navratri, that honors "Durga" and has been observed for centuries.
As part of the reimagined Winter Fantasia, noted costume designer David Quinn has created a wardrobe of new costumes for Lisa Thurrell's "Once Upon a Winter's Eve" an imaginary journey into the lives of the mythological creatures including fairies and elves. Quinn, who designed many of the fabrics himself, was inspired by images of folk wear and medieval clothing as well as by the designers Alexander McQueen, Rei Kawakubo, and Guo Pei in ornately weaving and detailing his creative collection of gender-fluid costumes for Kanopy's dancers.
Winter Fantasia: Reimagined
Performing at Overture's Promenade Hall, Reception Following Friday Night Performance
THU Dec 8, 7PM
FRI Dec 9, 7:30PM
SAT Dec 10, 2 & 5PM
SUN Dec 11, 1 & 4PM
Tickets (reserved seating): $40
Groups: 4 or more $35
Ages 18 & under $20
Students $20
(608) 258-4141 Overture.org
On sale Sept 20, 2022
Watch. Art in Motion. With Critically Acclaimed Guest Artists Lloyd Knight and Jamar Roberts Premiere Voices in Contemporary Dance In Kanopy's Connexions
March 9-12, 2023 Overture Center for the Arts
Connexions features guest dancers/choreographers Lloyd Knight and Jamar Roberts, who are recognized as premiere voices in shaping the future of American Modern Dance and important artists of color.
Lloyd Knight presents his world-premiere "Commune" —a new work commissioned by Kanopy and choreographed to an electronic mix by the Signal Band—that deeply resonates in our society today. How does each of us find a path to community and experience a sense of togetherness or unity? Knight, a principal dancer with Martha Graham Dance Company , is also a guest Principal artist for The Royal Ballet of Flanders.
Another highlight of the concert is "Born to Love", a solo to be performed by the mesmerizing Knight and choreographed by Jamar Roberts, that explores the heightened emotions of love, indelible remembrances, and inevitable loss. It is set to Dianne Warwick's hit "(There's) Always Something There to Remind Me". Roberts , whose choreographic voice has been described as an "uncommon force and originality" by Dance Magazine , is the Resident Choreographer of the internationally renowned Alvin Ailey American Dance Theater in NYC.
Also on the Connexions program is Lisa Thurrell's, "For Persephone ate the Pomegranate", a solo inspired by the Greek myth of Persephone- the ancient Greek Goddess of Spring and Innocence who was spirited away by Hades to become Queen of the Underworld. The poignant work is set to music composed by the late Vicky Tzoumerka Knoedler– a composer and founder of the Mesoghios Dance Troupe and honors her art and her memory. Finally, Robert Cleary presents his "Fear is the Enemy", a political dance about the loss of trust and silencing the voice of protest.
Connexions
Performing at Overture's Promenade Hall, Reception Following Friday Night Performance
THU Mar 9, 7PM
FRI Mar 10, 7:30PM
SAT Mar 11, 5 & 8PM
SUN Mar 12, 1 & 4PM
Tickets (reserved seating): $40
Groups: 4 or more $35
Ages 18 & under $20
Students $20
(608) 258-4141 Overture.org
ON SALE Sept 20, 2022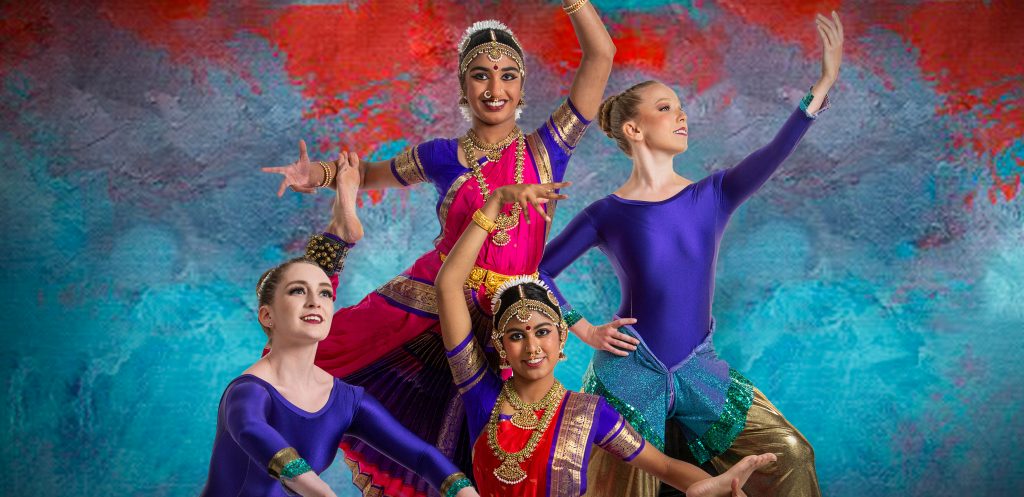 Kalaanjali Dance Company and Kanopy Dance Company Present a World Premiere Starry Nights: Painting with Dance A Fusion Performance of Bharatanatyam Classical Indian Dance and American Modern dance Inspired by the Art of Vincent Van Gogh
Sunday, March 19, 2023, 3PM
One Performance Only Overture Center for the Arts
The Overture stage becomes a canvas when Kalaanjali Dance Company and Kanopy Dance Company premiere Starry Nights: Painting with Dance, a fusion production inspired by the art of Dutch Post-Impressionist painter Vincent Van Gogh. The companies will combine principal modern dance techniques and classical Bharatanatyam Indian dance in three original choreographies that evoke the expression, rhythm, and passion of Van Gogh's iconic works. Sixteen dancers will move against projections of Van Gogh's masterworks and will artfully "paint" the curved silhouettes of Van Gogh's Irises, the entrancing stars and mysterious night sky in Starry Nights, and the rich colors and joy of Van Gogh's Sunflowers— with a sensuous palette of dance forms.
The Kalaanjali Dance Company, based in Madison and San Francisco, will also present three traditional Bharatanatyam dances. Kalaanjali Dance was founded by Kanopy's guest artist, Meenakshi Ganesan, to promote and showcase Bharatanatyam, the oldest classical dance tradition in India that dates back nearly 3000 years. Bharatanatyam encompasses music, rhythm and expression and strictly adheres to the Natyashastra, (a Sanskrit treatise on performing arts). A modern work rounds out the Starry Nights program, with Lisa Thurrell's Prayer, performed by the Kanopy Dance Company. The sweeping Graham-based work is set to the music of Estonian Arvo Pärt, a composer of minimalist style classical and religious music, and features elegant costuming in vibrant colorways of plums rose, copper, and magenta.
Starry Nights: Painting with Dance
SUN Mar 19, 3PM One Show Only
Tickets (reserved seating): $40
Groups: 4 or more $35
Ages 18 & under $20
Students $20
(608) 258-4141 Overture.org
ON SALE Sept 20, 2022
Experience the Power and Expression of Movement In Kanopy's Dance Journeys Colin Connor, Award -Winning Choreographer and former Artistic Director of the of the legendary Limón Dance Company Guest Directs Two of his critically Acclaimed Works "Recent Arrivals" and "Weather in the Room"
April 27-30, 2023
At the Overture Center of the Arts
Colin Conner, an internationally renowned dancer, award-winning choreographer, and former artistic director of the Limón Dance Company, that is regarded as one of the world's greatest– guest directs two of his celebrated works :"Recent Arrivals" and "Weather in the Room", in Kanopy's Dance Journeys. Connor describes his work as: "rooted in the mystery of how we live in our physical beings. It is an ongoing investigation of perception, both of dancers and audience, and based on how, in the end, all human experience is felt through the senses." Critic Jennifer Dunham, writing for the New York Times, praised the clarity of intention in every movement of Connor's riveting choreography as "a relief …to see movement treated as a sufficiently expressive medium."
"Recent Arrivals" is a beautiful and poignant reminder of the American immigrant story that links us all. It has been set on both ballet companies and modern ensembles. The work is for eight dancers and performed to a sound score and the first movement of Schubert's "Unfinished Symphony".
"The work is an homage to those who have had the courage to leave behind their homeland and everything they know to face an unknown future. If we each look back at our ancestors, we will find someone who has made such sacrifices with hope to bring a better life for generations to come." Colin Connor.
In his cross-generational ,"The Weather in the Room", Connor choreographs humanity and in his words: "unveils the strength and fragility of a longterm relationship" and the shifting emotional landscape that surrounds an older couple, to be danced by Kanopy's Co-artistic Directors Robert E. Cleary and Lisa Thurrell.
Six younger Kanopy Company dancers will illuminate and magnify the charged "weather" of the couple's evolving bond. Expect a stunning and synergistic performance with both generations of dancers drawing dynamic strength and artistry from each other.
Dance Journeys
Performing at Overture's Promenade Hall, Reception Following Friday Night Performance
THU Apr 27, 7PM
FRI Apr 28, 7:30PM
SAT Apr 29, 5 & 8PM
SUN Apr 30, 1 & 4PM
Tickets (reserved seating): $40
Groups: 4 or more $35
Ages 18 & under $20
Students $20 (608) 258-4141 Overture.org
On Sale Sept 20, 2022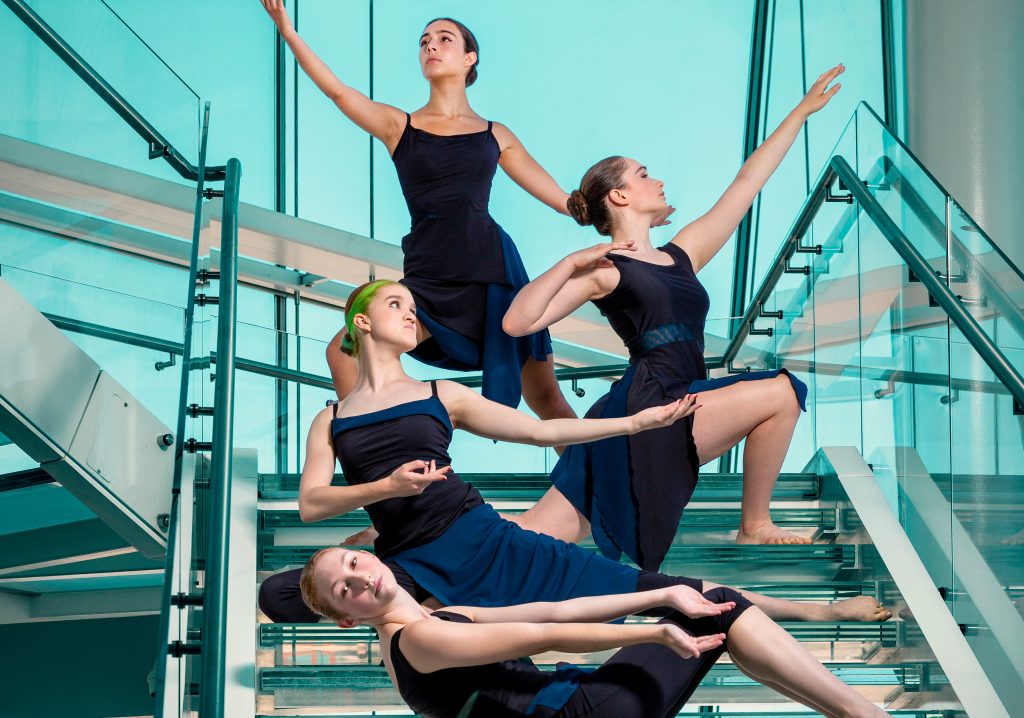 The Pure Joy of Kanopy Dance Don't Miss The Next Generation of Dance Kanopy 2 & Academy Showcase Performances of Iconic Kanopy Works + Original Choreography by Academy students & Kanopy 2
Saturday, May 20, 2023, 2 & 5PM
Two Performances Only at the Overture Center for the Arts
The significance of the Next Generation of Dance cannot be overstated. Kanopy Academy and its 100+ dedicated students are integral to Kanopy's cultural mission, and we are so very honored to shine a special light on their hard work, and their technical and creative progress. Watch the next generation of dancers and choreographers in Kanopy's pre-professional training program, Kanopy 2, and the Kanopy Academy ignite the stage with new ideas, new expressions and even original choreography and costuming developed and built by the dancers themselves. The Next Generation of Dance is also a special opportunity for members of our preprofessional company, Kanopy 2 (along with some Kanopy Company members and Academy students), to perform iconic works by Kanopy's co-artistic directors, Robert E. Cleary and Lisa Thurrell, who have earned national acclaim for their dancing and their choreography. Kanopy 2, our second Company, offers a pre-professional training program open to exceptional students of dance by audition only. Serious dancers are introduced to an intense vocabulary of classic and modern forms and study with national luminaries shaping the future of modern contemporary dance.
Numerous Kanopy 2 alumni have forged professional dance careers or earned success in other creative careers of their choosing.
The Next Generation of Dance Kanopy2 & Academy Showcase
Performing at Overture's Promenade Hall, Reception Following 5pm Performance
SAT May 20, 2 & 5PM
Tickets (reserved seating): $35
Groups: 4 or more $30
Ages 18 & under $20
Students $20
(608) 258-4141 Overture.org
On Sale, Sept 20, 2022